ShellyLib Features
---
Modeling
More than 40 parameters are available to model the shell shape. If you dislike the idea of fiddling with 40+ parameters, simply load and adapt one of the many provided example parameter files, containing many basic and special shell shapes.

Using a special built in editor, you may model the generation curve (cross section) of your shell:
---
Texturing
Using the built in texture generator you may create a texture, starting from 20 initially available patterns with over 50 parameters to adapt the texture to your needs:
---
Rendering
Finished with the texture, you can render the shell shape with the texture applied using GLU-NURBS and antialiasing for ultimate image quality :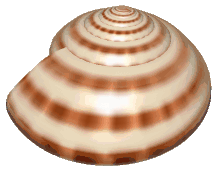 ---
Export
Finally, the shell shape may be exported to one of the following 3D file formats for inclusion in your own underwater/beach/whatever scenes: Real3D-RPL-macro, RIB (RenderMan Interface Bytestream), DXF, 3DMF (3D Metafile), Truespace (COB), POVRay (Bezier-Patches), T3D (Imagine), SCED, RAW, Web3D X3D, Wavefront OBJ.
---
Randolf Schultz, 8. Jul 2008
rschultz@shelly.de